iTracker for Mac
(version: 1.2.2)
iTracker is an innovative application that provides a complete alternative way to interact with your computer.
It is the absolute best head control software for the Mac that offers a totally new way to experience your mac.
Download our free fully functional trial version and prepare to be amazed!
This product requires no calibration, no teaching/learning/practice.
We designed our algorithms in a way such that it just works, fast and flawlessly.
Whats new in version 1.2.2? (14/7/2019)
Fixed issue related to multi screen support
Fixed issue where tracking was not working when clicking the menu bar
Whats new in version 1.2.1?
MacOS Mojave support
Support for multiple capture devices
Multi screen support
Bug fixes
Main features include:
Complete mouse control with just the movements of your head
Rich dwell panel that supports:

Drag & Drop
Left click
Right click
Middle click
Double click

Dynamic and adjustable sensitivity/noise control
Global shortcut key for instant activation/deactivation of the tracking
Ridiculously Low CPU utilization
Custom defined gestures control (coming soon)...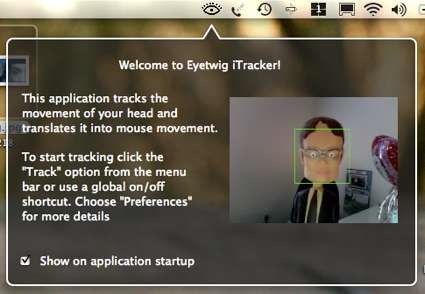 iTracker has been successfully installed in a school for children with disabilities in Tel Aviv, Israel and puts lots of smiles on many children's faces that could not effectively use computers before. We were even invited to 'Good Morning Israel' show to discuss our innovative product. (head over the about us page for the full video)